Media monitoring offers many benefits for all its users thanks to the wide range of insights it provides, such as the number of mentions of a topic, the date, time and channel on which the content was disseminated, the reach of the mentions, or the sentiment of the news content.
With the results of media monitoring, companies and organizations – or the PR agencies acting on their behalf – can keep an eye on their external reputation, plan business and communication strategies based on facts and make informed decisions, or even react promptly to a communication crisis that threatens their image.
Six Easy Steps to Start Monitoring the Media
While the benefits and the value that media monitoring provides are crystal clear, it might not always be obvious where to start. To help you quick-start monitoring the media yourself, here are six simple steps you can take: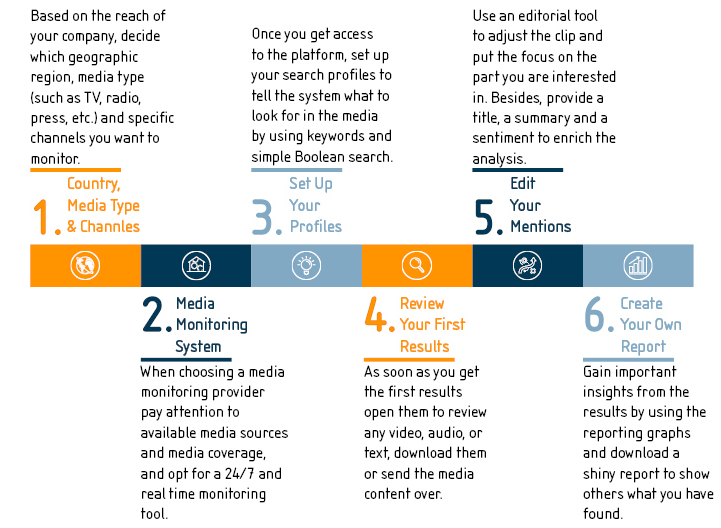 1. Choose Country, Media Type, and Channels
Any decent media monitoring platform can be set up in a short time. One of the first things to decide on is the region, resp. the countries, you want to monitor and what type of media and/or channels you are interested in.
This decision should be primarily influenced by the reach of your company or brand. For example, if you want to monitor a regional brand, it makes sense to focus on local media outlets, whereas for an international one you would want to monitor all countries where the brand is present.
After this decision is made, you can start looking for the right media monitoring service.
2. Find the Right Media Monitoring Solution for You
There are many media monitoring tools available, but what they offer varies drastically. Pay attention to available media sources and channel coverage. While there are some providers focusing on single sources and/or regions, eMedia Monitor offers global coverage and a wide range of channels across multiple media types and is therefore able to deliver tailor-made solutions for their clients.
To get the most out of media monitoring, it is best to opt for an online tool that analyzes media 24/7 in real time. An online platform offers many advantages: besides not having to install anything and being able to start monitoring right away it can be accessed from basically anywhere in the world.
3. Use Keywords to Set Up a Profile
Once you have access to your media monitoring platform, you can start setting up your search profiles for the topics you are interested in. Normally this is done by using keywords and the simple Boolean operators (plus and minus signs, brackets, and quotation marks).
By setting up a query for a topic this way, the system knows exactly what to look for in the media and what to notify you about if it occurs.
4. Review the results of media monitoring
As soon as you have set up the search profile the system will start notifying you about the results appearing in the online platform. You can also set up customized schedules or notifications of results that are sent directly to your email inbox.
Receiving a real-time notification can be a great advantage, for example, if you are tracking media content about a sensitive topic that affects your company's reputation – this will allow you to react promptly to a threat.
Whether it's TV, radio or print content that appears on the online platform, you can immediately open the content to watch, listen or read the news about the topic you are interested in. In case it is a relevant result that you want to share, you can download it or send it by e-mail.
5. Edit and Customize the Mentions
To edit the results of TV and radio, you can use an editorial feature that allows you to change the length of the clip: adjust the start and end of it to set the focus on the part you are interested in. The editor also allows you to judge the news content qualitatively by adding a clip title and a summary and manually assigning it a sentiment to enrich your analysis.
6. Make a report and draw conclusions
Users can carry out in-depth analyses of the media monitoring results and gain important insights by using the dashboard with the analysis charts. These allow media monitoring users to answer questions such as: In which type of media does the brand get the most mentions? Does the brand have an international, national, or regional media reach? In which countries is the brand mentioned the most?
Together with the number of mentions and the analysis of the clips, these insights are a key to adapting your communication strategy based on the findings and increasing your campaigns' success. Moreover, you can transform the findings into a shiny presentation to show others what you have discovered.
Getting started with media monitoring is as simple as following these steps. Once you're up and running, you just need to be consistent in the task and use the insights intelligently to maintain control over your company's reputation or to gain a competitive advantage.
Moreover, at eMM we are aware of the changing needs of any business and are flexible regarding media monitoring subscriptions. Our clients can adapt their media monitoring plan in no time – adding channels or countries depending on their current needs.
If you have any questions, our team of experts will be happy to help you and answer your questions. Do not hesitate to contact us!
You might also be interested in:
Go International: How to Boost Your Expansion with Media Monitoring
Media & Elections: The Relevance of Gathering Insights About Election Campaigns Across Different Media Types
Trends in Media Monitoring: What You Should Know now to Stay Ahead during 2023