Digitalization has modified the media market. One example of this is the tendency of media companies to produce a single piece of news and to disseminate it via different channels – simultaneously or at a different time.
This process called cross media publishing not only enables these companies to save money and resources by reusing content in any of their distribution channels but also serves to reach a bigger audience by sharing the content in a wide range of broadcast and new digital media.
Along with changes for media companies' workflows, cross media publishing also influences the work of marketing and PR professionals. Especially when using a media monitoring service to observe the topics of their interest, these professionals receive all the content that appears in the media according to their search parameters – including duplicates. Traditionally, the only way to distinguish duplicate content would be to sift through all content manually – an arduous task that occupies time and personnel!
To deal with this issue, eMedia Monitor has developed an intelligent feature named Duplicate Detection, which is part of the innovative Pegasus media monitoring system.
Efficient Notifications for Duplicate Content
Normally, a user who has enabled content alerts would receive a notification for each new result. Thus, in case of duplicate content, the user would be notified about the same content several times (both if the content appears on the same or on another channel).
To avoid this issue, the eMM feature identifies the first clip of content that was broadcast and sends an automatic alert to the user. From that moment on, any piece of duplicate content that appears on the same or a different channel does not create further alerts but can still be accessed via the results page in the Pegasus platform.
Effortlessly Identifying Duplicate Content
Users of a regular service usually have to sift through all content and identify duplicates manually once they are reviewing detected mentions via the system. With our tool, users can choose to have duplicates detected automatically by the Pegasus system, thus reducing efforts drastically.
With Duplicate Detection users only have to select "fold duplicates" in the tab displaying all the results of a profile. They can then see the details (media name and time of the mention) of all the hits that contain the same content just below the first result that was detected.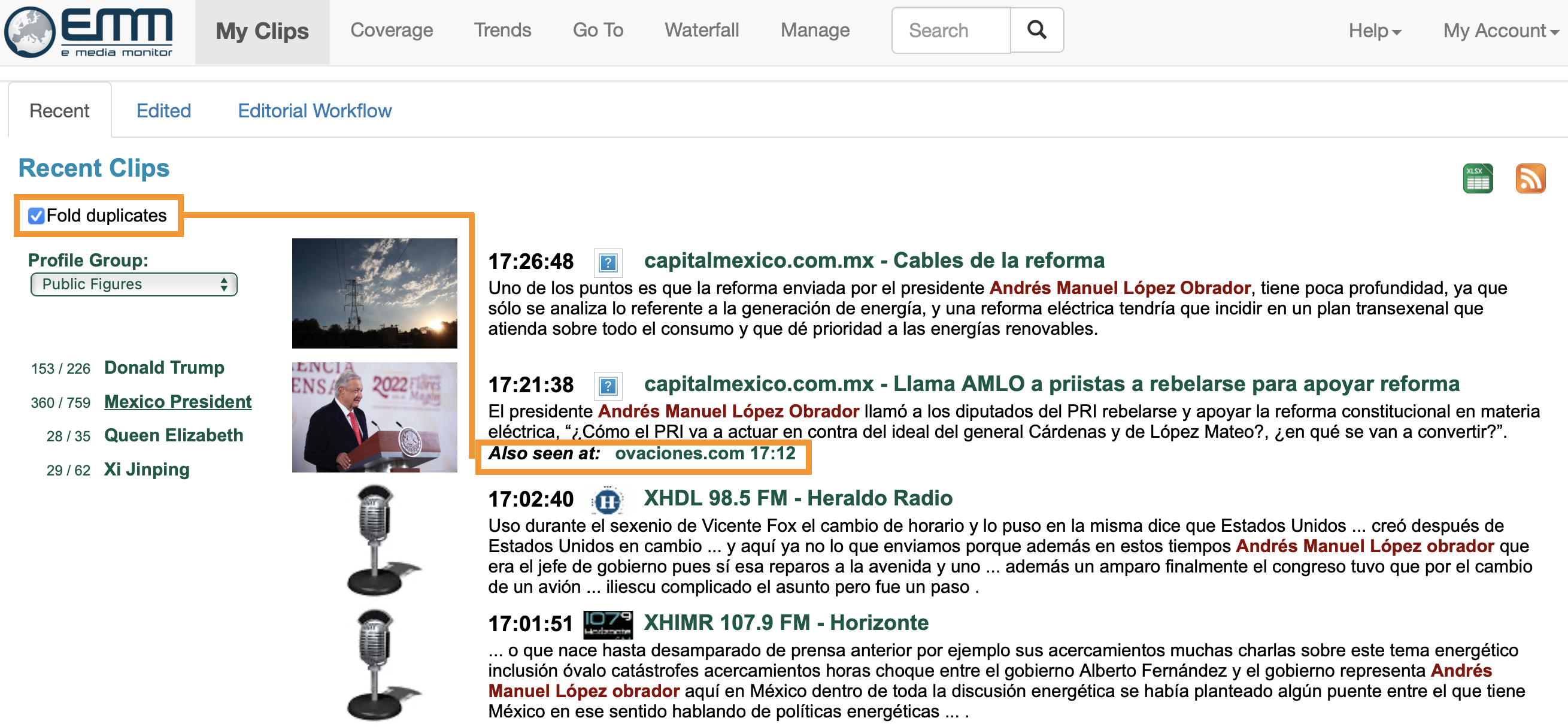 At eMedia Monitor, we constantly strive to facilitate the work of the users of our Pegasus platform. Our team of experts are well aware of the requirements of our customers and translate this knowledge into clever features. Besides Duplicate Detection, Pegasus provides other features such as Editorial Workflow, Waterfall, Query Visualization, or Transcript Editor.
If you would like to learn more about the benefits of the Pegasus media monitoring system contact us and schedule a personalized demo:
You might also be interested in:
A Close Look at the Monitoring Trend
Why Media Monitoring Gains Importance in 2022 – A Look into the Global Entertainment and Media Market